24 December 2008
On the 12th day of Christmas, Auckland Airport's travellers donated to me… $10,000 for Auckland City Mission!
It's the last day of Auckland Airport's charity donation promotion and the final recipient is the Auckland City Mission. Over the past 12 days Auckland Airport has distributed $120,000 to 12 different charities in a bid to spread some Christmas goodwill.
The donations have been made possible by the generosity of Auckland Airport's travellers who have donated their foreign currency or loose change in donation globes positioned throughout the airport.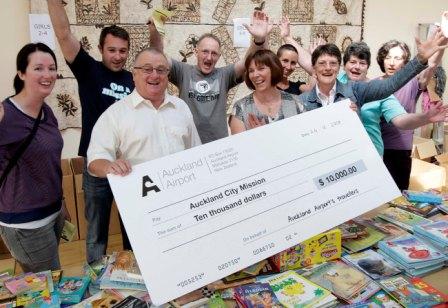 Chief executive officer of Auckland Airport, Simon Moutter, said, "All year round the Auckland City Mission provides outstanding, professional service that really makes a difference in people's lives. Their doors are always open and everyone is welcome. At the airport we emulate these values and are just delighted to be giving our final donation to this very worthy cause."
Since 1920 the Auckland City Mission has been working with those in need. Located in the heart of Auckland city the charity cares for children living in poverty, isolated elderly, people with addictions and the homeless. Through tireless work the team creates better lives and makes Auckland a better home and community for everyone.
"With the current economic conditions, more and more Aucklanders are struggling to make ends meet and thousands are turning to the Auckland City Mission for help," says Diane Robertson, Auckland City Missioner. "We are also feeling the financial pinch. It costs over $4.5 million a year to provide our services, and only 8 % of this is government funded.
"We are eternally grateful to Auckland Airport's donation programme and this fantastic initiative. Thanks to support like this we can ensure families have the emergency assistance and support they need – and help make Christmas happen for every Auckland child.
"This Christmas the mission will give out 1,000 food parcels to families in need, host the largest family Christmas Dinner in New Zealand and distribute 25,000 Christmas presents to Auckland children and their families. That's all in addition to providing the emergency assistance and support that are part of our normal services."
With one sleep till Father Christmas, the team at Auckland Airport wishes everybody a very happy holiday period. Safe travels.
Donations made in the last 12 days…
On the first day of Christmas – Auckland SPCA, $10,000
On the second day of Christmas – Age Concern Auckland, $10,000
On the third day of Christmas – Refugee Association Aotearoa New Zealand, $10,000
On the fourth day of Christmas – Auckland Women's Refuge, $10,000
On the fifth day of Christmas – WaterSafe Auckland, $10,000
On the sixth day of Christmas - Ronald McDonald House South Island, $10,000
On the seventh day of Christmas - Youthline Auckland, $10,000
On the eighth day of Christmas - West Auckland Hospice, $10,000
On the ninth day of Christmas - Pohutakawa Coast Community Association, $10,000
On the tenth day of Christmas - The Life Flight Trust, $10,000
On the eleventh day of Christmas - YHA New Zealand, $10,000
On the twelfth day of Christmas - Auckland City Mission, $10,000
Ends
For further information, please contact:
Sarah Aldworth
Communications Manager
Auckland Airport
+64 (0) 9 256 8917
+64 (0) 27 474 6483