23 December 2008
On the 11th day of Christmas, Auckland Airport's travellers donated to me…$10,000 for YHA New Zealand!
Auckland Airport today announced the 11th of 12, $10,000 donations as part of its 12 day of Christmas promotion, to YHA (Youth Hostel Association) New Zealand who are building a sustainable hostel on Stewart Island.
The donations, made possible by the generosity of Auckland Airport's travellers, have received an enormous amount of interest, with the 12 chosen charities selected from over 300 applications.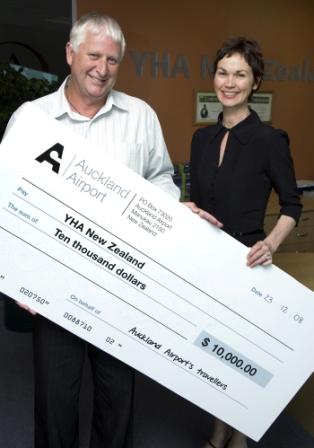 YHA New Zealand is a charitable trust connected to a worldwide organisation. Through their many hostels around the country, the YHA promotes education and awareness of other cultures while also encouraging conservation and sustainability.
The Stewart Island hostel, which will be completed by November 2010, will also have an adjourning education centre which will be available to school groups and visitors to learn about the environment, native bird and plant life and support school children on their school camp experience.
The hostel will be built to promote sustainability by using solar water heating panels, grey water recycling in the bathrooms and extensive general waste recycling.
Simon Moutter, Auckland Airport's chief executive officer said, "It is fantastic to support an environmental friendly hostel and education centre that will be such a valuable asset to international travellers and kiwis. Stewart Island is a wonderful location to take a holiday or to learn about New Zealand's unique environment.
"Auckland Airport strives to support eco-friendly initiatives. We are proud to donate $10,000 for this project on behalf of our 13 million annual travellers."
YHA chief executive officer, Mark Wells, said, "We are really pleased to receive this donation, especially as it comes from travellers, who are one of the main users of our hostels. Our Stewart Island project commemorates the 75th anniversary of the Association. The hostel and education centre will be a great additional resource on the island while also supporting the YHA goal of reducing our carbon footprint. It will be an example of active learning by providing the experience of daily living while using sustainable practices.
"The new education centre will provide children with the opportunity to explore Stewart Island's national park and learn about our natural wild life and will be resourced with a visual library."
YHA is one of New Zealand's most enduring brands. It was established in 1932 by Cora Wilding to provide accommodation to keen trampers and to encourage young people to experience the outdoors. The first hostels were on Banks Peninsula and were run by volunteers who established branches, running and maintaining the hostels throughout the network. These early beginnings established the fundamentals of YHA objects and to establish YHA hostels as a welcoming environment to domestic and international visitors.
Auckland Airport's 12 days of Christmas continues every day until 24 December, with a new $10,000 charitable donation made daily.
Donations made so far…
On the first day of Christmas – Auckland SPCA, $10,000
On the second day of Christmas – Age Concern Auckland, $10,000
On the third day of Christmas – Refugee Services Aotearoa New Zealand, $10,000
On the fourth day of Christmas - Auckland Women's Refuge Inc, $10,000
On the fifth day of Christmas - Water Safe Auckland Inc, $10,000

On the sixth day of Christmas - Ronald McDonald House South Island, $10,000

On the seventh day of Christmas - Youthline Auckland Charitable Trust, $10,000
On the eighth day of Christmas – West Auckland Hospice, $10,000
On the ninth day of Christmas – Pohutukawa Coast Community Association, $10,000
On the tenth day of Christmas – Life Flight Trust. $10,000
On the eleventh day of Christmas – YHA New Zealand, $10,000
Ends
For further information, please contact:
Sarah Aldworth
Communications Manager
Auckland Airport
+64 (0) 9 256 8917
+64 (0) 27 474 6483