10 October 2008
The completion of a new $50 million international terminal pier at Auckland Airport marks the next stage in the airport's development that will eventually provide for a projected 25 million passengers a year by 2025.
The new international pier was officially opened by the Rt. Hon Helen Clark at an event today, and will open for travellers on 21 October.
Auckland Airport chief executive officer Simon Moutter said, "The new pier marks a significant milestone for New Zealand's gateway, providing the capacity and environment to support New Zealand tourism, travel and trade, both now and well into the future."
It has been designed with expansion in mind and to accommodate the next generation of larger sized planes, including the Airbus A380.
"The new pier will greatly improve service to travellers by giving us the ability to handle more aircraft at peak times and offering further world-class facilities in Auckland for the travelling public" Simon says. All travellers will benefit from the extra aircraft capability as it will reduce the number of situations where travellers are bussed to and from an aircraft.
Four years in the planning, the new pier has been built to meet increasing traveller numbers to Auckland, and to accommodate the much anticipated arrival of aviation's newest giant aircraft, the Airbus A380. Auckland Airport is ready to roll out the welcome mat from 1 February 2009 when Emirates begins a daily A380 service between Dubai, Sydney and Auckland. Auckland Airport is proud to be the only airport in New Zealand that can host the double-decker aircraft.
The completion of the new pier ends a major construction phase at the international terminal. In April 2008 a new arrivals area opened, greatly increasing the facilitation of arriving travellers, followed by the completion of the expanded border agency screening hall in July. Auckland Airport strives to represent New Zealand by providing an outstanding, welcoming and uniquely kiwi experience - the new pier is a shining example of this approach.
The arrival and departure levels of the building are adorned with touches of Kiwi flavour to welcome and farewell both New Zealanders and overseas travellers. Specially selected imagery of unique wildlife and plant life brings the great outdoors to life and hints at just some of what New Zealand has to offer.
Large windows in the pier offer an insight to the busy airport environment as well as out to the stunning Manukau Harbour. On the departure level a distinctive sculpture by New Zealand artist Konstantin Dimopoulos prompts travellers to reflect on their idea of New Zealand.
Auckland Airport's new international pier is also setting a trend in environmental design as it prepares to become one of the first buildings in the country to be recognised with a new US rating for sustainable construction, Leadership in Energy & Environmental Design (LEED).
The pier features solar heating for public toilet hot water and rain water harvesting, with an estimated 4000m3 of recycled rainwater per year expected to be collected from the roof and piped to a tank farm for re-use.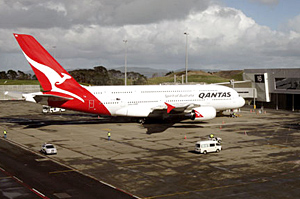 The pier has highly filtrated air and carbon dioxide sensors and underwent a "flush-out" period to reduce levels of dust, odours and chemical contaminants. Water use has been reduced by more than 40 percent through using low-flow fittings and collected rain water for the air-conditioning system cooling towers. The pier also has an increased level of metering and sensors to allow monitoring and regulation of energy usage over time.
Throughout construction, numerous measures were taken to reduce pollution from construction activities, including: an erosion and sedimentation control plan to prevent stormwater pollution; recycling construction waste; and ventilating the building to remove dust and toxic gases from building materials.
To be A380 friendly, the pier's first gates, gate 15 and 16, are specially fitted with two New Zealand made Multi Aircraft Ramp System (MARS) airbridges able to disembark or load both levels of the aircraft simultaneously. It also provides the unique ability of being able to service two A380s or four smaller aircraft at the same time.
For further information, please contact:
Richard Llewellyn
Senior communications manager
Auckland Airport
+64 (0) 9 256 8191
+64 (0) 27 477 6120
Additional information
Development overview:
Developments at Auckland Airport have been progressing since 2004 and to date include:
Extensions to the international check-in area to accommodate 12 new counters;
Alterations to the domestic terminal forecourt to allow for greater traffic flow;
The addition of a second level to the international terminal pier;
The expansion of the baggage-handling system;
The reconfiguration and expansion of the departure emigration hall; >
The construction of four new aircraft stands;
A new multi-level car-park at the domestic terminal with 850 spaces;
The completion of a $100 million arrivals processing and duty free area at the international terminal.
What is LEED?
Leadership in Energy and Environmental Design (LEED) is a US rating system that offers certification that a building meets the highest green building and performance measures. A LEED building is designed and constructed to be environmentally responsible, profitable and a healthy place to live and work. Auckland Airport's new pier is built to LEED specifications and is awaiting confirmation that these standards have been met.
Building a green building
Being green is not just about having a lot of eco-friendly features, but also about considering the whole construction process. Through out the build plans were in place to prevent the pollution of storm water systems, to recycle all paper, glass, concrete and metal waste, and to regularly ventilate the building to remove any dust and toxic gases.
Solar panels
New Zealand's sunny climate will help light the pier through 300m square meters of solar panels on the pier's roof. The solar energy is expected to produce 49,500kWhr every year - the same amount of energy used by three to four households every year! Energy can't be stored overnight, but during the day the solar panels produce enough energy to power the equivalent of the corridors connecting the new pier with the international terminal.
Solar hot water heating
Travellers using the sparkling first floor washrooms can experience hot water that is pre-heated using 40 square meters of solar water panels. This is expected to save 15,000 kWhr per year.
Rain harvesting
When the sun isn't shining in Auckland, rainwater will be collected and piped to a rainwater reclaim tank farm. Approximately 4000 cubic meters of rain water is expected to be collected annually and will be recycled for use in the air-conditioning cooling towers.
Reduced water usage
Water usage in the new pier is 40% lower than in a standard building due to low-flow fittings in the washrooms and the use of recycled water in the air-conditioning system cooling towers.
Cleaner air quality
Travellers can take a deep breath of clean air. After construction a lengthy "flush out" period took place to reduce levels of dust, odours and chemicals typically found in newly constructed buildings. To maintain high air quality, carbon dioxide sensors throughout the area will regulate the amount of fresh air circulated in the building.
Energy management
Turning off lights is a great way to save power. In the new pier lights near windows will automatically switch off when there is enough natural light and lighting in the public areas will automatically reduce when the area is not being used. Energy will also be saved through the use of extra insulation, double glazing and the selection of energy efficient equipment.
Eco displays
Departing travellers can "linger and learn" at two large LED touch screen monitors near gate 15. The displays will give a guided tour of what Auckland Airport is doing to be a responsible friend of the environment. One display will illustrate how much solar electricity is being produced, and how much carbon dioxide is being saved through the use of the solar panels.
GO TO TOP