13 November 2008
As the ladies line up in designer creations at Addington Raceway for the annual New Zealand Cup fashion in the field event, Auckland Airport is holding its own "runway" spectacle with the launch of unique Kiwi-designed uniforms.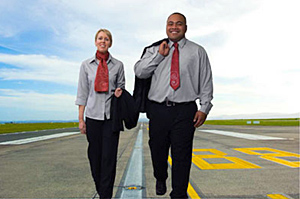 Auckland Airport's customer service team will strut their stuff from 11 November in a new uniform designed to reflect the company's welcoming, outstanding and uniquely Kiwi values.
The 50-strong team, affectionately known by travellers as "redcoats" due to their traditional red uniform, will be stepping out in elegant new black tailored pinstriped suits accompanied by a silver shirt. In homage to their "redcoat" past the uniform will be complimented with a red silk scarf or tie with an Aotearoa pattern. The unique graphic is designed around a koru pattern and incorporates cloud, wind and sea themes.
Customer service manager, Debbie White, says the new uniform, provided by Auckland based company Fashion Uniforms, is designed to be distinctive and recognisable so the team can be easily identified around the airport.
"It is fantastic to see our customer service team dressed in such gorgeous uniforms that will be easily recognised by all users of the airport. The team were directly involved with the new design and wanted to present themselves in a Kiwi influenced uniform."
The customer service team operate a 24 hour a day function at Auckland Airport, handling around 19,000 general enquiries per month. Based in a dedicated operations centre the team take telephone enquiries, conduct monitoring and surveillance activities from 500 plus cameras positioned throughout the airport, provide public address announcements and respond to emergency calls. They manage lost and found property, are responsible for terminal evacuations, provide traveller assistance and during peak hours assist with queue management.
With red being the national colour for Tonga, the old red uniforms will be donated to Tongan community groups for reuse by choirs, churches and other national community groups.
The new customer service uniforms follow hot on the heels of a new Airport Emergency Service uniform launched earlier this year. The two new uniform launches are part of Auckland Airport's new brand rollout that started in late 2007.
For further information, please contact:
Sarah Aldworth
Communications manager
Auckland Airport
+64 9 256 8917
+64 0 27 474 6483