12 December 2008
On the first day of Christmas, Auckland Airport's travellers donated to me…$10,000 for the Auckland SPCA!
Auckland Airport today kicked off its 12 days of Christmas charity donations that will see $120,000 given to New Zealand charities by Christmas Eve.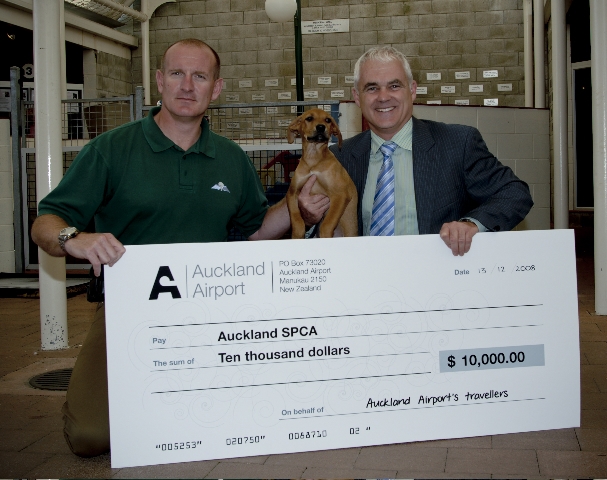 The donations, made possible by the generosity of Auckland Airport's travellers, have already created a great deal of interest with over 300 charities applying for a slice of Christmas cheer.
Auckland's SPCA today received the first of the 12, $10,000 donations. For 125 years, the SPCA has encouraged the humane treatment of animals by providing shelter, fostering long-term adoptions and educating the public about the humane treatment of all animals.
Auckland Airport chief executive officer, Simon Moutter, said, "It was extremely difficult to select 12 charities from so many worthy causes. The SPCA is a fantastic recipient of this money and will put it to great use for their new animal shelter.
"It's heartening that Auckland Airport's travellers have made a simple but generous gesture of a donating a few foreign coins into our donation globes. That money can now be used to help so many important New Zealand causes like the SPCA."
Bob Kerridge, Chief Executive of the Auckland SPCA, said he was absolutely delighted with the donation, arriving as it has at Christmas.
"To receive this amount from our near neighbours at Auckland Airport is just wonderful. It will help us to fulfil our dream for 2009 of establishing the small animal adoption area at our Animal Village in Westney Road, Mangere.
"Our small animals, including rabbits and guinea pigs, are currently housed in unsatisfactory accommodation," said Mr Kerridge, "and plans have been drafted to provide freedom and space for them to enjoy. The project includes a special getting to know you area where prospective adoptees can become acquainted with them. This donation is the first to be received for this project, and what a magnificent start it is."
Auckland Airport's 12 days of Christmas continues every day until 24 December, with a new $10,000 charitable donation made daily.
Ends
For further information, please contact:
Ainslie Stevenson
Communications Co-ordinator
Auckland Airport
+64 (0) 9 256 8906
+64 (0) 27 499 0212