05 July 2011
Auckland Airport played host to the launch of the Love NZ National Recycling campaign on June 2, welcoming Environment Minister Dr Nick Smith to do the honours.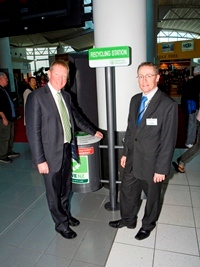 The event, organised by the Glass Packaging Forum, saw more than 70 guests assemble for speeches from the Minister, Deputy Mayor of Auckland Penny Hulse and our very own Judy Nicholl.
All speakers noted the need for government, private and public sector organisations to work together to make the Love NZ recycling programme a national success, for the Rugby World Cup and far beyond.
Judy revealed that public place recycling bins were first installed at the airport in 2008. Today over 400 tonnes of public and commercial waste is recovered for recycling each year, giving the airport an impressive 27 per cent recycling rate.
Plans are afoot to improve that figure over the next few years, with changes to waste management practices set to be introduced later this year.