28 September 2011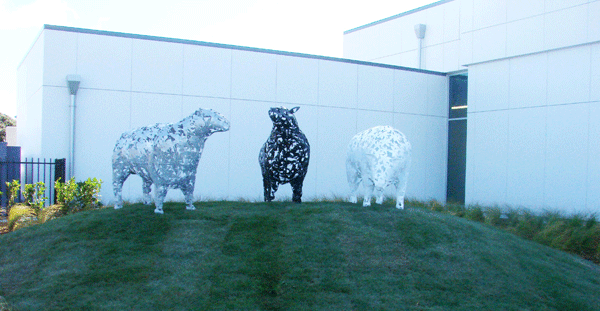 A new sculpture at Auckland Airport is set to surprise even regular visitors as it is moved around the Auckland Airport Business District.
"The Pioneer, Maui's bird and the Earthly Star" has been created specially for the airport by Sean Crawford to document and pay homage to the pioneering flights of New Zealand aviation innovator Richard Pearse.
The sculpture includes three sheep featuring different shapes made from laser cut steel components. The first represents Pearse's flying machine, the second sheep is fabricated from the Saddleback bird (Tieke) and the third is made from the Clematis flower (Pauwananga).
Peter Alexander, Auckland Airport general manager property, said it was very exciting to unveil Sean Crawford's sculpture installation in the Auckland Airport Business District.
"It's Auckland Airport's aspiration to include public art into the landscape as part of our place-making strategy. Sean's "sheep" sculpture is our first installation and it is a celebration of both aviation and the area's farming history." says Peter.
The sculpture will be periodically relocated to different positions around the Auckland Airport Business District, so keep an eye out for it next time you visit.