Being a good employer and creating a vibrant business hub
The airport is a major business hub and source of employment. We want to be a good employer for our own employees, to encourage other businesses to see the airport as a location of choice, and to be seen by South Auckland people as a local source of long-term employment. We also want everyone working here to benefit from the facilities we offer.
Diversity
To support our commitment to diversity, we are a founding pledge partner in the Champions for Change movement - a New Zealand-wide business-led initiative. Modelled on similar overseas movements, the principal objective of Champions for Change is to radically increase diversity among New Zealand companies' boards of directors and executive leadership teams. Auckland Airport also participated in the pilot of a new Cultural Capability Assessment tool developed in support of Champions for Change. Our People and Capability Committee of the Board receives an annual report from management on diversity within the company, which encompasses the number of female employees, level of participation and representation by department. In addition, the Senior Management team receives regular reports on diversity and wider gender demographics.
In FY19 we increased female representation in key positions across the business, including at Board level (38 per cent to 50 per cent increase year-on-year) and in our Leadership team (13 per cent to 22 per cent increase year-on-year). Overall, the number of female managers across the business rose from 27% to 32%.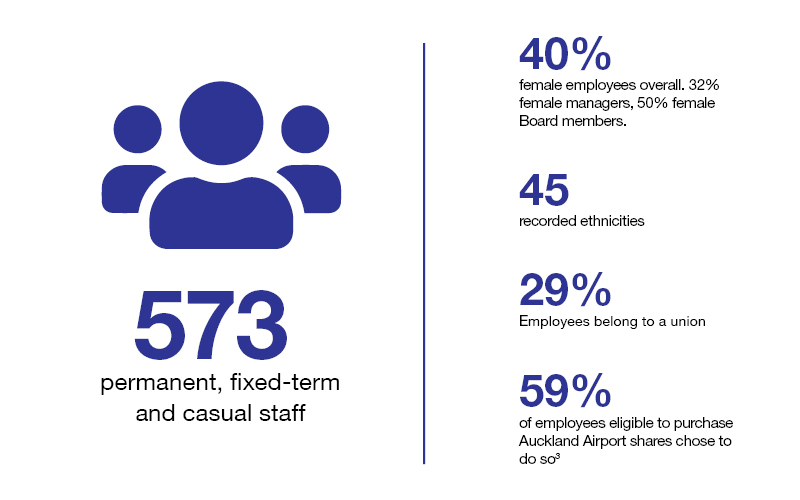 Engaged and developed workforce
We help our employees develop their career paths by offering them a combination of formal and informal programmes. We seek to recognise the contributions of our employees and focus on creating an engaged environment.
In FY19 we continued to implement our multi-year employee engagement action plan based on our 2018 Employee Engagement Survey results. As part of this plan, employee Engagement Champion groups have been established, and an employee engagement training programme developed and rolled out to all group members. Regular progress reports on the employee engagement action plan are provided to the Leadership team via the General Manager Corporate Services.
Creating a vibrant business hub
Our airport precinct comprises many businesses working together to provide an enjoyable experience for our travelling customers, as well as a place for New Zealand businesses to thrive and access local and international markets.
Our business hub is home to 135 tenants, including two hotels, the offices of our airline and border control/security partners, and logistics and distribution facilities. In addition to over 100 retail shops in the domestic and international terminals, we also host a shopping precinct catering to travellers, local residents and those working in the area.
We track the satisfaction of our tenants through our average lease term, which is currently sitting at 9.38 years – one of the longest in New Zealand's listed property sector.