Being a good neighbour to our communities
We want to be a good neighbour and play an active part in building strong, vibrant local and national communities. These communities cover people working in our Auckland Airport precinct, and living in South Auckland, the Auckland region, and around New Zealand.
Investing on our communities to help them achieve
Our communities tell us that improving education, employment and health, and protecting the local environment, are important to them. Our community engagement programme addresses all these needs, and is built around the themes of 'aspiration' and 'achievement'. We focus on education, sporting and environmental initiatives, and use our influence to help create better employment opportunities for the people of South Auckland.
How we support our communities
We support individuals, schools, universities, charities and community groups with:
scholarships
sponsorships
donations
environmental activities
employment and training partnerships.
Supporting education
Auckland Airport Education Scholarships 2017
For the fourth year in a row, we are providing scholarships that offer Year 13 South Auckland secondary students paid summer work and support with their tertiary study. We have increased the number of scholarships in 2017 to nine.
These scholarships are a tangible way we can help local students gain work experience and qualifications that will help them meet their career goals.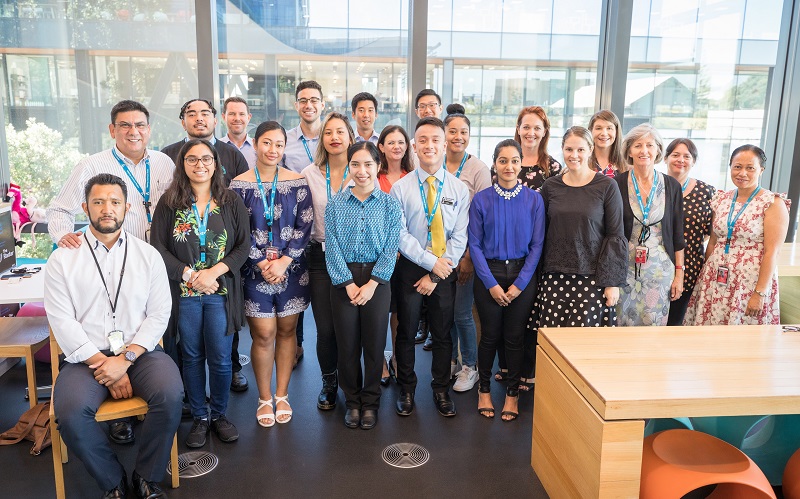 Our 2016 scholarship winners with their mentors from our Auckland Airport team
Scholarships for teachers' professional development
To celebrate our 50th birthday, Auckland Airport is offering $150,000 to fund a scholarship programme which supports the professional development of principals and teachers working in local South Auckland primary, intermediate and secondary schools. The scholarships awarded will help fund full-time and part-time tertiary study and mentoring/coaching for some of South Auckland's best teachers.
We recognise that teachers play a vitally important role in helping students learn. The scholarships are a tangible way we can reward these teachers and, in turn, benefit children in our South Auckland community.
For more information and about the scholarships please click here.
Counties Manukau Life Education Trust
We have supported this great cause since 1988, providing significant funding and servicing the Trust's five mobile classrooms. Our support helps the Trust's educators give primary and secondary school children the knowledge they need to make informed choices about their health, to respect others and to value their uniqueness.
Auckland Airport Youth Art Programme
We offer talented young artists from local schools the chance to exhibit their art in our international terminal.
Supporting sport and fitness
Auckland Airport Gold Medal Awards
Each year the Auckland Airport Gold Medal Awards provide $30,000 in grants to support sport and fitness activities at local sports groups, schools and marae. In 2015 recipients included South Auckland Middle School, Te Kura Maori o Nga Tapuwae and Pakuranga Athletics Junior Track and Field.
Helping people into employment
Ara – airport skills & jobs hub
Our employment and training partnership with Ara and local employers (including Fletchers and Hawkins) is connecting South Auckland people with jobs – on their doorstep – as we build the 'airport of the future'.
MIT student internships
Over the airport's busy summer period we connect retailers in our international terminal with MIT students looking for work.
Education Scholarships
Every year we help eight top South Auckland year 13 students move from education to employment, by giving them a laptop, funding towards their tertiary education and offering them a summer work placement at the airport. Find out more.
Protecting our environment
Coastal clean-up
With the help of a local secondary school, our airport team don our gumboots, roll up our sleeves, and collect rubbish that has built up around our shoreline on the Manukau Harbour. We make a donation to the school to thank them for their time.
WaiCare stream clean-up
We contribute funding to help Auckland Council's WaiCare programme co-ordinate clean-up and planting activities around South Auckland's Otara Creek.
Protecting our culture and heritage
We are proud to sponsor and support community events including the Auckland Arts Festival and Polyfest.
Sponsoring the Auckland Arts Festival 2017
We're delighted to be sponsoring the Auckland Arts Festival's programme for schools: Schools Meet Arts at the Festival. As part of this sponsorship we're hosting 120 students from schools near the airport (Puhinui Primary School, Ferguson Intermediate School and James Cook High School) to shows in the festival's exciting programme.
Sponsoring ASB Polyfest 2017
We're pleased to be sponsoring ASB Polyfest 2017. This sponsorship is one of the ways we're supporting the incredible diversity of our local community and promoting aspiration in South Auckland through education and employment.
Our sponsorship and related activities include:
six new awards that recognise the huge part teachers play in guiding students to Polyfest success
sponsoring and supporting the Polyfest judges
supporting the four local schools that are coordinating or hosting stages: Alfriston College, Māngere College, Papatoetoe High School and Southern Cross Campus
inviting successful Polyfest schools to perform in our international terminal after Polyfest.
Supporting local iwi
Auckland Airport marae
We developed our airport marae (Te Manukanuka o Hoturoa Marae) in partnership with Tainui, and contribute to its running costs. The marae is a cultural resource available to all members of the airport community.
Auckland Airport Gold Medal Awards
Each year the Auckland Airport Gold Medal Awards provide $30,000 in grants to support sport and fitness activities, including at marae. In 2015 marae recipients included Papatuanuku Kokiri Marae plus local schools Te Kura Maori o Nga Tapuwae and Te Kura Kaupapa Maori a Rohe o Mangere.
Observing Māori protocol
We regularly involve iwi in protocol ceremonies around the airport.
Charitable giving and fundraising
Auckland Airport Community Trust (AACT)
The Trust was set up in 2003. Since then, we have contributed over $3 million to community groups, with a focus on building literacy and life skills in South Auckland. These are some of the organisations that benefitted in 2015: the Parenting Place, the Brainwave Trust, and the Chinese New Settlers Trust.
Twelve Days of Christmas
In December each year we donate $120,000 across 12 local charities. Most of the money comes from the travelling public who put their unwanted currency into donation globes around the airport. Each year we top up these funds.
In 2015 recipients included KidsCan, the Asthma Foundation, Project Jonah, and Te Ara Rangatu o te Iwi o Ngati Te Ata Waiohua.
Fundraising in terminals
Every month we offer one national charity our terminals as a venue for their annual public fundraising. In 2015 charities included St Johns Ambulance, the SPCA and the Cancer Society.