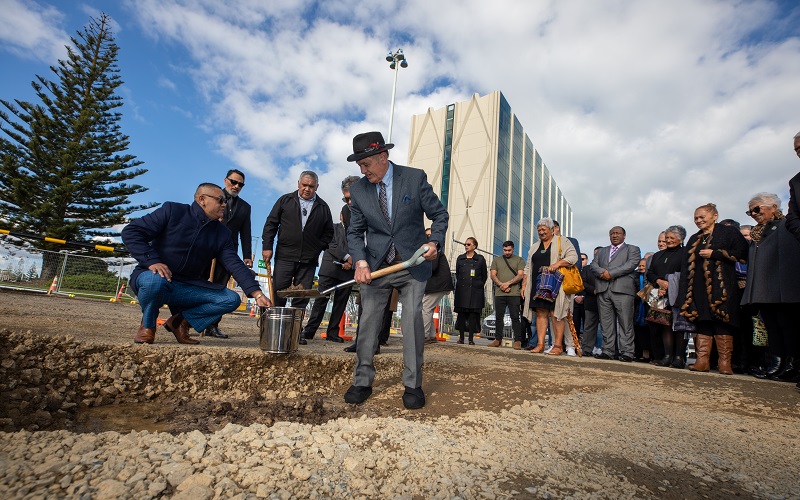 A stunning, uniquely New Zealand design has been revealed as we begin work on building a luxury hotel in the heart of the airport.
The Warren and Mahoney design infuses unique Waikato-Tainui cultural elements into the building, drawing heavily on the connection between land, sea and sky through the use of natural materials and light.
"The project is part of Auckland Airport's multi-billion-dollar infrastructure investment programme, which will transform the airport over the next two decades," says Mark Thomson, Auckland Airport's General Manager of Property.
"The Pullman Hotel alone will generate approximately 300 jobs during construction and will then employ 200 people once the hotel is open."
A highlight for many travellers will be the top floor restaurant and bar offering stunning views across the Manukau Harbour and Waitakere Ranges.
Combined with onsite meeting rooms, it will be the perfect choice for business meetings.
Developed as part of a 50/50 venture with Tainui Group Holdings, who are our partners in the Novotel Tainui next door, the 5-star Te Arikinui Pullman will welcome its first guests in early 2020.
Taking shape
311- room, 5-star luxury hotel operating under the Pullman brand
Adjacent to the international terminal
Developed in partnership with Tainui
Takes its name from the chiefly title carried by the late Ma-ori Queen, Te Arikinui Te Atairangikahu
Will employ around 300 people during construction and 200 people when operational
Designed by Warren and Mahoney
Dominion Construction appointed to build.